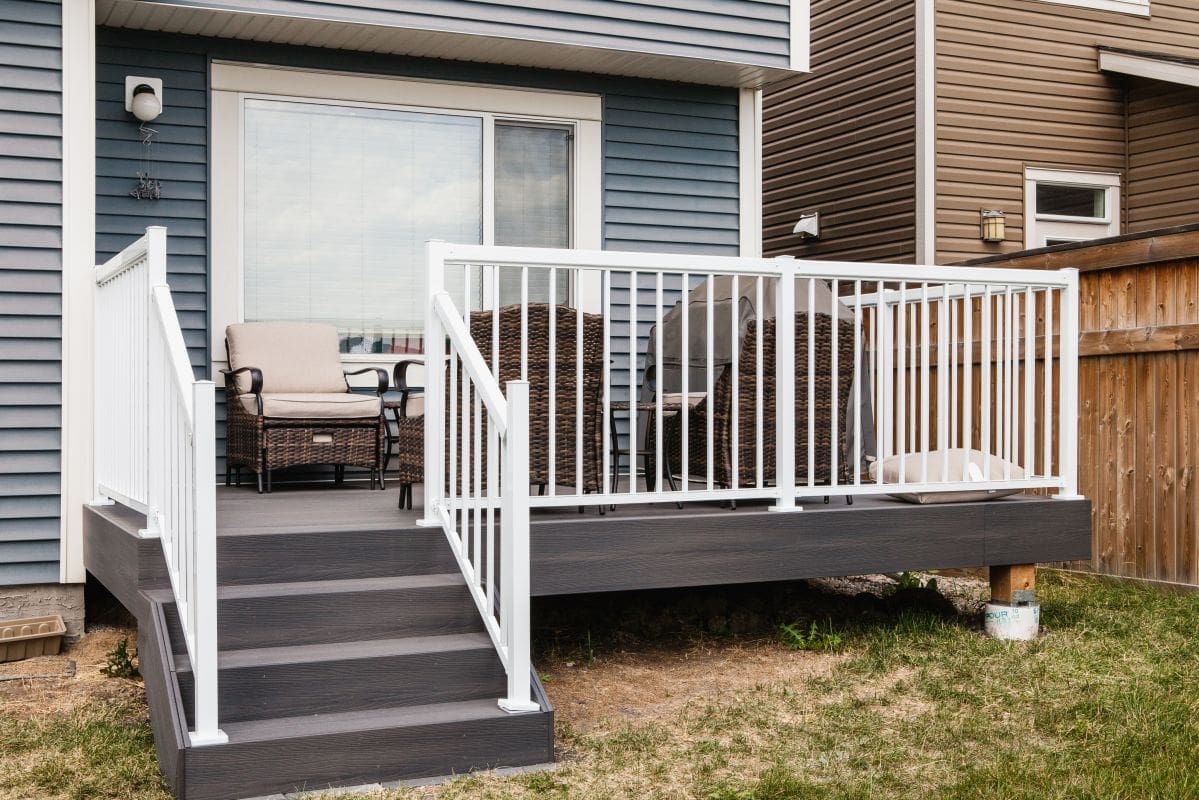 Click image to view full gallery
The Renovation Story
We received a call from a couple that were interested in having us build a ground level composite deck. A few days later, we met with them on their original builder grade pressure treated deck. It had been built at the same time as the house and was showing signs of wear. Firstly, they were tired of the yearly upkeep involved and were interested in swapping to maintenance free composite boards for their ground level deck. Secondly, the clients were looking to create a  large enough deck to enjoy dinners on during the summer. Home builder decks are often small and as a result can be awkward to use comfortably.  While standing on theirs it became apparent that a table and barbecue would not fit the current deck size.
The ground level deck needed to be larger.
We designed a ground level composite deck to allow the clients to walk out of their kitchen directly onto the deck. The depth was extended to comfortably fit a table and chairs with a barbecue. A ground level deck offers privacy, allowing the clients to be below the fence line from their neighbours. However, since the deck was not completely on the ground it offered some storage below if needed. The new deck size was created for a versatile outdoor living space while not taking up too much of the yard space. 
Composite deck boards, or natural materials?
Low maintenance was very important to the clients so the decision to use a composite decking material was easy. Fiberon is a high-performance, eco-friendly wood alternative that offers the warmth and appeal of natural wood materials. Unlike cedar or pressure treated spruce decking though, composite boards are maintenance free. The client was able to chose from a wide range of colours and finishes to suit their style and budget. After they made their selection, we installed the Fiberon composite deck boards in conjunction with TigerClaw hidden fasteners for a high-end clean look. Last but not least, we installed a crisp looking white railing from Regal Ideas which matches the homes window casings and ties the ground level composite deck and house design all together. 
With more and more people being home during the pandemic, the deck has been well used and enjoyed daily, creating a comfortable and private outdoor living space. Click here for another example of a beautiful composite deck!
PROJECT FEATURES
Composite Deckboards
White Picket Railing
BUDGET: $8,000
SUPPLIERS & TRADES
This is a list of the companies that worked with us on this project.