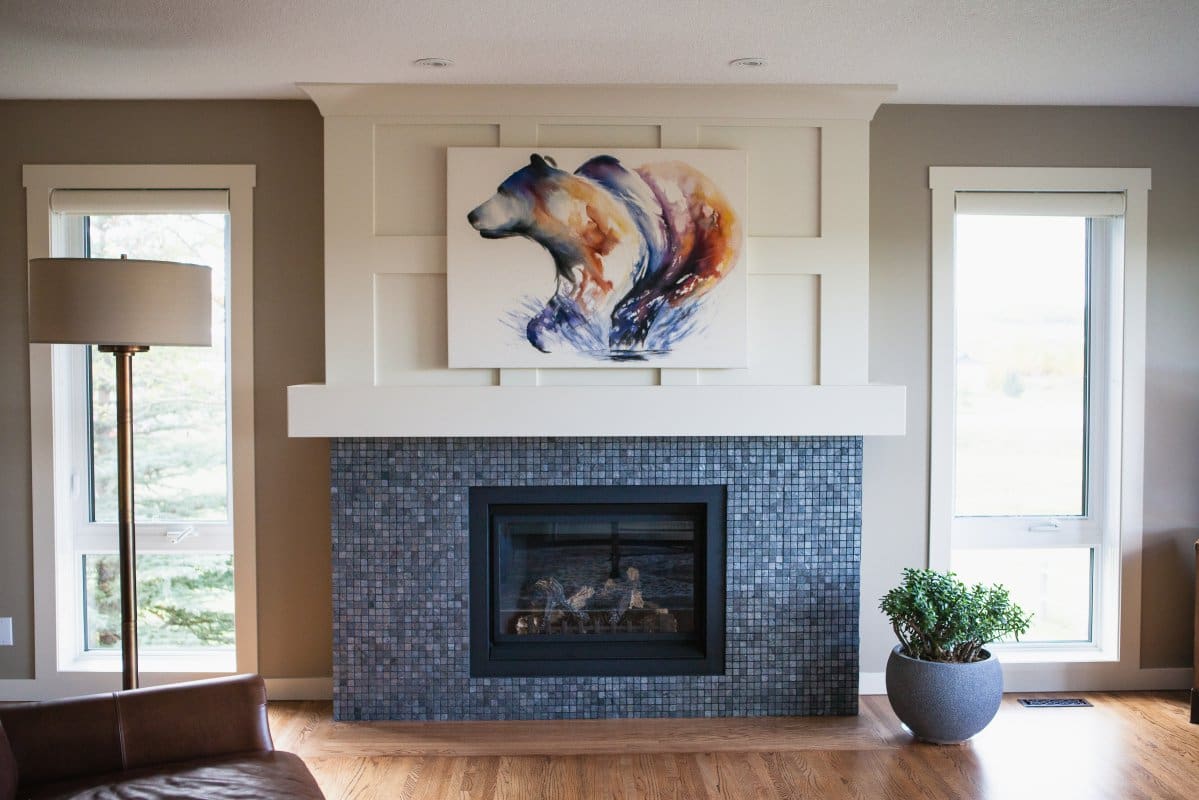 Click image to view full gallery
The Renovation Story
A long standing client called us to replace their wood burning fireplace with natural gas. Their house had been renovated over the years and the existing fireplace no longer fit with the style of the home. We installed a new farmhouse mosaic tile fireplace for them and they couldn't be happier! The new fireplace suits the look of the rest of their home while creating a beautiful focal point in the living room. The metallic tile has an almost captivating look to it that is quite unique.
Picking Tile for a Fireplace
Fireplaces provide warmth and comfort in a home. Metallic mosaic tiles from Ames Tile & Stone were chosen to create a cheerful vibe and unique look. Obviously tile is a good choice for a fireplace surround as it is a non-combustible material. Equally important is that we used metal studs instead of wood to frame the inside of the fireplace. Additionally the cladding around the framing is non-combustible concrete board instead of drywall. 
Changing to a Farmhouse style Fireplace
To capture the essence of farmhouse and craftsman style, the client asked if we could install moulding above the fireplace. Their vision was to provide interest and depth instead of a blank wall above the fireplace. After installing the moulding everything was sprayed on site to create a super smooth finish.
The original wood burning fireplace was floor level with a tile ember pad. In order to create a more updated looking fireplace we raised the fireplace box off the floor and tiled around it on three sides. Subsequently the old ember pad was removed and replaced with matching hardwood. Urban Tree Flooring completed the hardwood floor repair by installing the new pieces perpendicular to the existing floor.
Switching from a wood burning fireplace to natural gas is a popular renovation, especially when you can personalize the look with your tile choices and moulding preferences. Certainly the convenience of turning on a switch gives homeowners an easy way to enjoy a fireplace without the inconvenience of chopping wood and cleaning up ash. In addition, wood fireplaces are more of a fire hazard and cost more on your home insurance than their natural gas counterparts.
We were very happy with our work when we were able to step back and appreciate how good the farmhouse mosaic tile fireplace looked!
Click here to see an example of a modern fireplace.
PROJECT FEATURES
Mosaic Tile Surround
Custom Millwork
Hardwood Floor Integration
BUDGET: $15,000
SUPPLIERS & TRADES
This is a list of the companies that worked with us on this project.