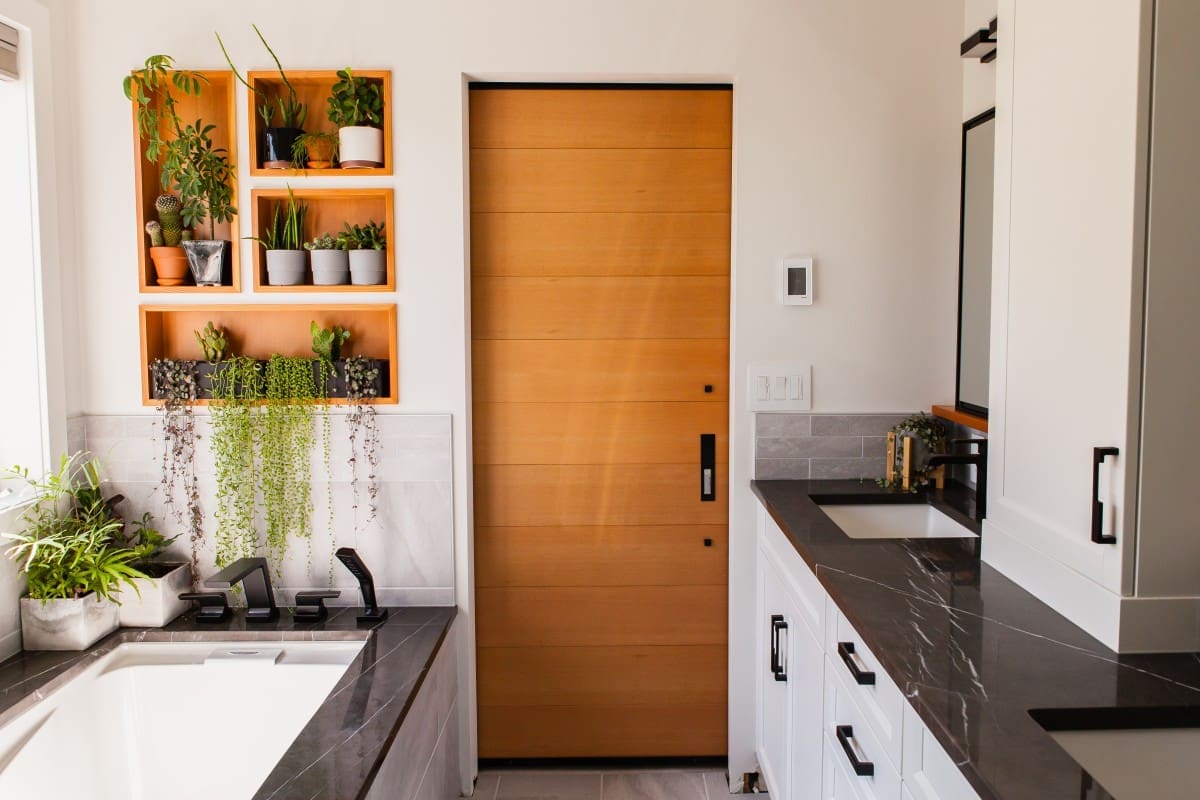 Click image to view full gallery
The Renovation Story
What a fun, creative project this undermount tub bathroom renovation turned out to be! It has cool elements like the grey porcelain tile and sleek black fixtures as well as warm touches like the fir sliding door, plant niches and mirror shelves. The black marble vanity top and tub deck are a striking contrast to the white cabinets and the warm wood accents.
Our clients said "it's time, the bathroom has to go". We couldn't have agreed more and so the planning began. They asked for a bright, contemporary style with warm touches, spots for plants and a deep soaker tub. We were excited because this would be our first undermount tub bathroom renovation and we love doing new things!
Undermount tubs are trending in bathroom renovations.
We had never remodeled a bathroom with an undermount tub so this was going to be interesting. Not only did the client want it to be undermount but also the deepest soaking depth model we could find. After some searching we found one which could be undermounted, but it was in Montana! So we drove across the border to pick up the tub (it was going to take too long to ship) but it was definitely worthwhile as the tub looks amazing and the client is thrilled!
An undermount tub bathroom renovation to soak in.
While the undermount soaker tub with the black marble deck is a nice custom touch so is the fir wood sliding door! We had the frame of the door custom welded and powder coated black, then slid the fir wood panels in and we couldn't be happier with the results. Along with the sliding door, we made custom wood niches for plants at the end of the tub, and fir wood shelving to rest the mirrors on. The black frame of the sliding door ties in quite nicely with the sleek black plumbing fixtures we sourced from Plumbing Online. The fir wood features aren't the only things that bring warmth to this bathroom renovation as we also added Schluter in floor heat. This is a great system that not only contains the electrical wire below the tile but also decouples the materials at the same time. Click here for another slick bathroom renovation!
PROJECT FEATURES
Marble tub deck
Marble countertop
Tiled tub walls
Personalized vanity shelf
Hand made plant niches
Custom built barn door
BUDGET: $30,000